Man Utd pull off incredible comeback win as PSG capitulate in Europe again.
Man Utd pull off incredible comeback win as PSG capitulate in Europe again.
They say the video assistant referee is killing the drama in football. Not here. No way. This was the most incredible, astonishing unforgettable finish as Manchester United were awarded a controversial 90thminute penalty to knock Paris Saint-Germain out of the Champions League. Marcus Rashford took it, driving the ball high into the net and the United bench exploded – it felt just like 1999. It really did. PSG were stunned. The world was stunned.
There were then four minutes of added time. It felt like an eternity with PSG reacting with fury after the award which seemed harsh. Sure Presnel Kimpembe blocked Diogo Dalot's shot which hit his elbow but the defender had turned his back. Even so after consulting with the VAR on the side of the pitch referee Damir Skomina gave the penalty.
No fewer than 106 times has a team unsuccessfully previously tried to overcome a 2-0 deficit from the first leg of a Champions League tie. There will not be a 107th. That United, severely depleted, without 10 players, did this is quite extraordinary and a glowing testimony to the spirit that Ole Gunnar Solskjaer has brought to them.
This was about courage and heart and believing that, as Solskjaer said, there is never a mission impossible. This was simply heroic. It was about resolve and determination. And sheer, bloody-minded guts.
It has been already been said – not least by himself – that Solskjaer is bringing something of the old United back and this was further compelling evidence delivered by him. The players sprinted to the 2,000 United fans at the final whistle as every PSG player slumped on the turf.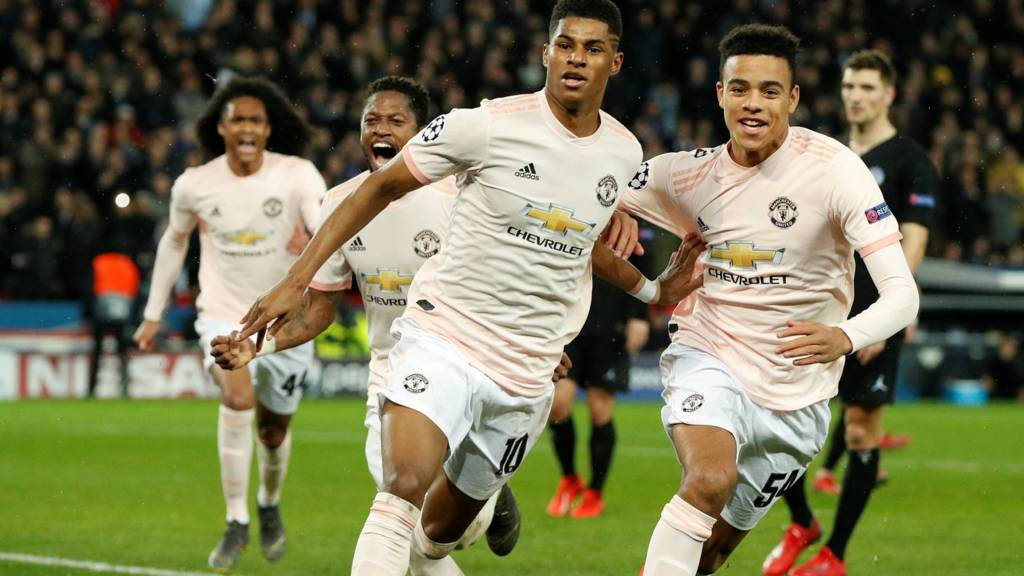 It was a remarkable first-half. United were dominated, utterly dominated with the statistics at one point showing they had just 13 per cent of possession and had completed only 25 passes. PSG had racked up 256.
There was also the exposure of Eric Bailly at right-back, where he seemed lost, constantly drawn in-field, leaving space outside him which was exploited. Until, after 36 minutes, Solskjaer rectified his glaring mistake by taking Bailly off and bringing Diogo Dalot on in his 4-4-2 formation. Bailly was limping but the injury appeared to be wounded pride. It was a bad, bad night for him.
But, by then, United had scored twice. In between PSG had taken them apart but both United goals were gifts, gleefully snapped up by a resurgent Romelu Lukaku with the second changing the dynamic. Soon after it Marcus Rashford ran on to an Ashley Young free-kick and shot narrowly wide and Dalot tricked his way into the penalty area and tried to cross when he had to shoot. Even then Buffon did well to hold onto the ball as Marquinhos diverted it goalwards. That would have given United the third goal they needed even before the half-time whistle had been blown.
Both coaches had stressed the importance, the vital need to score the first goal and to hopefully score it early and, gloriously, it was United who claimed it. Not so glorious, though, for PSG or for their right-back Thilo Kehrer who, under pressure, tried to play the ball back to captain Thiago Silva without looking. It was over-hit and ran past Silva to Lukaku who sprinted clear on goal and appeared to over-run the chance as he skirted Gianluigi Buffon but managed to stretch and find the net. Game on.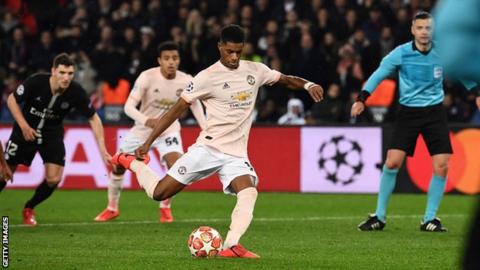 It was also the first time PSG had conceded two goals at home in the opening 45 minutes of a Champions League match since 1997 and they began to build their dominance again. Di Maria dinked the ball into the net after running onto a superb reverse pass by Mbappe – was rightly pulled up for offside – with the only respite for United coming when Lukaku went down injured. Solskjaer used the time to deliver instructions, scribbled on a piece of paper to his captain, Young and Rashford. The rain was unrelenting and so were PSG while Scott McTominay – whose commitment was unending – and Marquinhos clashed by the touchline. The free-kick counted increased; another sign that United were being stretched and stretched again. But would they break? They also needed another goal but were holding on in there; trying to counter.
Instead Mbappe broke through, running onto Di Maria's pass, only to stumble with Smalling poking the ball away. It fell to Bernat who slammed it against the base of the post from a tight angle. United scored through their penalty and then PSG in desperation poured forward with De Gea saving and then demands for their own penalty. They were waved away and United are through to the last eight.
Source: telegraph.co.uk